Despite the high levels of volatility seen yesterday, Bitcoin stabilized around $7,200. Now, a renowned technical analyst suggests that it is a good time to be "stacking sats" while another estimates a further correction.
Bitcoin is fairly "cheap"
In a recent tweet, Ecoinometrics points out that Bitcoin is trading at a "cheap" price relative to its long-term trend. Based on the Mayer Multiple, a ratio of the price of BTC to its 200-day moving average, the analyst believes that under the current price levels the pioneer cryptocurrency presents a good opportunity for investors to buy.
Ecoinometrics said:
"[Bitcoin is] still cheap when looking at the big picture. So no reason for not #StackingSats today!"
At the moment, the Mayer Multiple sits at 0.78x. A low value, such as the current one, is indicative of fair prices while a high value implies that Bitcoin is relatively expensive.
Lower lows ahead
Regardless of the low value given by the Mayer Multiple, CryptoKea, a crypto investor and technical strategist, maintains that it is far from presenting a good buy opportunity.
The chartist argues that this technical index is stipulating that the pioneer cryptocurrency is currently in a bear market. After spending more than 40 days below the 200-day moving average, BTC could be pushing for lower lows.
CryptoKea affirms that Bitcoin is trading within the bearish channel of the Mayer Multiple, which is between 1.1x and 0.55x. He considers this area to be the "first stop."
From now on, BTC could continue trending down for the next one to six months before it enters the "oversold" territory. According to the analyst, this is when a "very good buy opportunity" will be presented as the Mayer Multiple goes below 0.55x.
CryptoKea stated:
"If we take a look at how much higher the [Mayer Multiple] lows came in each [of the previous] bear cycles, conservatively, the 4th one could come in 15 percent higher than 0.51x which would lead to a low of $5,500."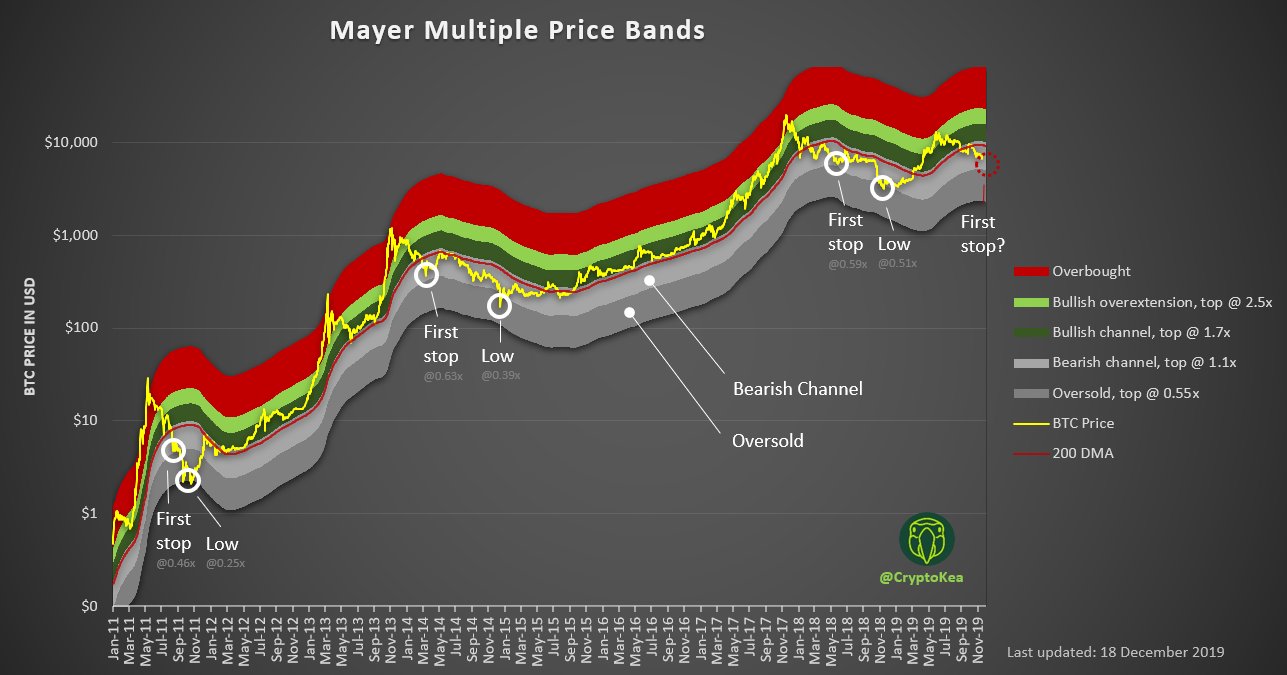 Although Bitcoin appears to have entered an accumulation zone, CryptoKea is not the only prominent analyst in the industry who is expecting lower lows. The growing concerns about the PlusToken scammers manipulating the market have prevented investors from buying in while others are still holding. Time will tell whether BTC is ready to break out of the downtrend it entered in June or continue falling.
The post Key indicator shows its time to accumulate Bitcoin, but the bottom is far ahead appeared first on CryptoSlate.